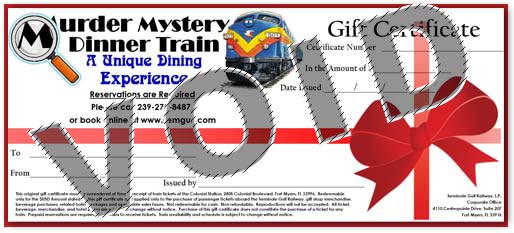 Great for birthdays, weddings, anniversaries, and of course the holidays, you may purchase gift certificates for the Murder Mystery Dinner Train over the phone or in person at our Colonial Station. We can mail the original presentable card stock certificate directly to your recipient or directly to you to present in person. Purchase your certificates today!
Purchase gift certificates online
, or call us at
239-275-8487
, or
800-SEM-GULF (736-4853)
.
Gift certificates may be purchased for any amount above $50.00, and are subject to the following restrictions:
This original gift certificate must be surrendered at time of receipt of train tickets at the Colonial Station, 2805 Colonial Boulevard, Fort Myers, FL 33996. Redeemable only for the $USD Amount stated on this gift certificate and applied only to the purchase of passenger tickets aboard the Seminole Gulf Railway, gift shop merchandise, beverage purchases, related hotel packages and applicable sales taxes. Not redeemable for cash. Non-refundable. Reproductions will not be accepted. All ticket, beverage, merchandise, and hotel prices are subject to change without notice. Purchase of this gift certificate does not constitute the purchase of a ticket for any train. Prepaid reservations are required for all trains to receive tickets. Train availability and schedule is subject to change without notice.
Purchase Gift Certificates Online