The year is 1926, and mystics, magicians, and spiritualists have become all the rage for high-brow entertainment throughout America.
Once part of a moderately successful brother act, The Great Barry Boudini went solo and is now at the height of his career as a magician and escape artist. Boudini and company are on their way to Sarasota for a private performance at the Ca' d 'Zan, the private residence of the famous circus master, John Ringling, and his wife Mable.
To the ire of Boudini, Mable Ringling has invited Madame Zanzibar, a fellow traveler of the occult, to amuse and delight her guests with a séance. That's when things take a surprising turn for the worse… TO BE CONTINUED.
To watch the rest of the story play out, you'll need to board the Murder Mystery Dinner Train and witness first-hand
The Illusion of Death
.
A Q&A with Wendé K. Bowman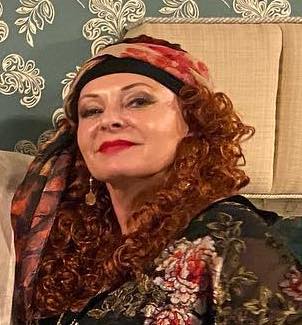 1. How long have you been involved with the Murder Mystery Dinner Train?
I started in 2007 as a weekend performer and then moved to a full-time performer in 2008. I took over as director during the 2010/11 season and have been directing ever since. I began writing original scripts for the Murder Mystery Dinner Train in 2013, and I also costume the shows now as well.
2. Do you have a background in theatre? What brought you to the Murder Mystery Dinner Train?
I have an extensive background in theater, including running my own theater production company from 1999–2009. What brought me to the Murder Mystery Dinner Train was my love of performing, comedy, and taking on a fun, challenging production.
3. What makes the Murder Mystery Dinner Train different from other types of shows?
It's a very unique venue. Combining dinner and a show with a moving train—it doesn't get any better than that. The ability to interact in such a personal space with the audience (safely, of course) adds such an exciting dynamic to the performance. It creates a new type of challenge for the actors to reach for, which leads to an exhilarating and very satisfying collaboration.
4. How did you come up with the initial concept for The Illusion of Death?
This may not come as a surprise, but I was inspired by a documentary on Harry Houdini. I have always loved magic and was even lucky enough to have been a magician's assistant at one point in my career.
5. What made you decide to set the show in the early 1900s?
Harry Houdini was at the height of his career during this period, and I saw an opportunity to blend an intriguing storyline with my love for over-the-top vintage costumes. I'm very passionate about the look and sensibility of period pieces.
6. When you began writing, did you already have the murderer/murder weapon in mind, or did it evolve as the story came together?
The murder weapon in this instance I had already settled on, however, that's not always the case. Sometimes they develop and change as the script evolves.
7. On a scale of 1–10 (10 being most challenging), how difficult would you say it is for someone to solve this particular case?
That's an interesting question. I believe solving the murder in The Illusion of Death is subjective to each guest's personal view of what clues are important to them. However, if I had to guess, I would rate it somewhere between an 8 and a 9.
8. One of the main characters—Barry Boudini—is obviously an homage to a real-life magician. Are there any other influences that helped you flesh out the characters in the story?
Not particularly. The characters were created to support the storyline. For me as a writer, once I establish the main character and his/her background experience, I create the other characters based around that personal story.
9. Describe the casting process for us—do you typically write characters with a particular actor/actress in mind?
The casting process is not one I take lightly. I have written characters specifically for certain actors/actresses, however, that's not always the case. It's actually based on quite a few factors.
First, I analyze each character and cast them based on what I believe will be their strength(s), such as comedic timing, physicality, or dialect ability. I then look to an actor or actress's ability to bring something new or surprising to a character. That's one of my favorite ways to get a glimpse into their process.
10. The Illusion of Death has been showing for a few weeks now. Can you describe how your audiences have reacted to it so far?
From my nightly perspective, I have observed quite a bit of laughter and joy coming from the audience. I certainly couldn't ask for more positive feedback than that!
The audience has been very complimentary of my cast, the show, and of course, the entire Murder Mystery Dinner Train experience. We strive every night to entertain our guests with plenty of mystery and laughter.
Book your tickets for The Illusion of Death today!
A big thanks to Wendé for taking the time to talk with us. If you haven't yet experienced a murder mystery on the rails, it's not too late to
reserve your seats
! The Illusion of Death is playing now through April 4th.