Infamous Holiday Homicides
It's the most wonderful time of the year...for most of us. These haunting holiday homicides will leave you horrified and shocked.
1. Lawson Family Massacre, Germanton, NC, 1929
The last surviving portrait of the Lawson family remains infamous to this day. Only days before Christmas, 43-year-old, Charlie Lawson, a working-class sharecropper, took his family out to purchase new outfits and to get their portrait taken. In this day and age, it was not common for someone of his financial means and social status to do this. To some in this era, it may even have been odd or peculiar. Fast-forward to the afternoon of Christmas day in 1929, and all but one member of the Lawson family would be dead.
Charlie waited by his barn for two of his daughters, Carrie (12) and Maybell (7), to meet before heading out to their aunt and uncle's. When Charlie saw them, he shot them with his 12-gauge shotgun and then bludgeoned them to the point of little recognition. He relocated their bodies to the barn before shooting his wife Fannie (37) where she stood on the porch.
Alerted by the sound of the shotgun, his youngest sons, James (4) and Raymond (2), sought refuge but were unsuccessful in their attempt to escape their father. He shot his daughter, Marie (17), and then bludgeoned his youngest child, a four-month-old baby girl named Mary Lou, to death. He then walked out to the woods and killed himself. His oldest son, Arthur (16), was the sole survivor because he had been sent out on an errand. We will never know if this was intentional to save his life or not.
Each member of the family was found with rocks beneath their head and their arms crossed. To this day, the motive behind Charles' actions remains a mystery. There is speculation of an incestual relationship between him and Marie and how that may have had something to do with it, but we will never truly know.
After being charged with sexual offenses involving his own daughters, Victoria (20) and Elizabeth (15), Ernest R. Wholaver Jr. convinced his brother to help him break into his former home on Christmas Eve. He was evicted after his wife Jean obtained an order under the Protection from Abuse Act. This order actually also made it illegal for him to purchase, possess, or carry firearms, but that didn't stop him from slaying his family with one.
His brother sat a block away as a lookout while Ernest forcibly entered the home. He shot his wife and two daughters but left his infant granddaughter alone.
A few days later, Wholaver was arrested and charged with three counts of first-degree murder. His brother acted as a Commonwealth witness for the prosecution. Ernest has sat on death row since 2004 and his brother was sentenced to serve 15-25 years.
When Michelle O'Dowd (67) welcomed a recently homeless friend into her home, she never could have imagined it would eventually lead to her death.
After a few months of living together the pair, O'Dowd and Patty Michelle White (41), had somehow found their friendship gone awry. O'Dowd's twin brother had always been suspicious of White so when his sister failed to show up for work or answer her phone on an early December day, he immediately went to her house to check on her. When he arrived, he found his sister's foot sticking out from under the presents below the tree. He moved the presents and found her body left intended for her family and grandchildren to find–her face bloodied.
White had beat and strangled her host to death and stolen her credit cards. She tipped her hand by using two different ATMs in South Carolina where she was arrested.
O'Dowd's family felt that White was a member of the family and couldn't begin to comprehend what had happened. They were absolutely sickened that White would bury the body beneath gifts meant for the children and the Christmas tree O'Dowd had so much pride in. Christmas was Michelle's favorite holiday and she dedicated a lot of time and effort to decorating for it.
Patty White was sentenced to 45 years in prison.
Looking for Something Lighthearted this Holiday Season? Join us in Fort Myers for Food, Fun, and of course, a Little Murder…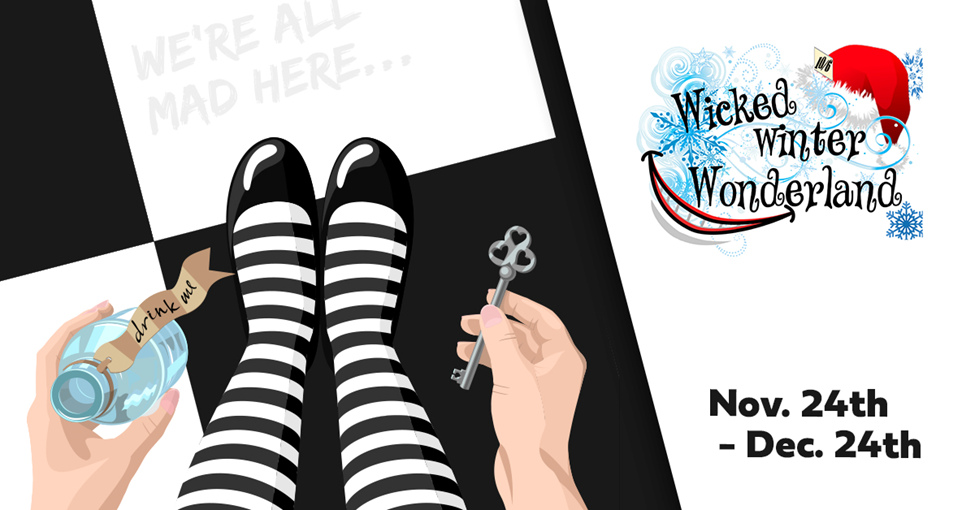 Now showing: Wicked Winter Wonderland. Now a grown woman, Alice, has received an invitation to the Christmas Ball. Alice has not visited Wonderland in some time, but the magical land was never far from her thoughts. Forgetting the powers of the looking glass, Alice steps through and finds herself in the compartment of a moving train.
Book your tickets now! Showing November 24th through December 24th.