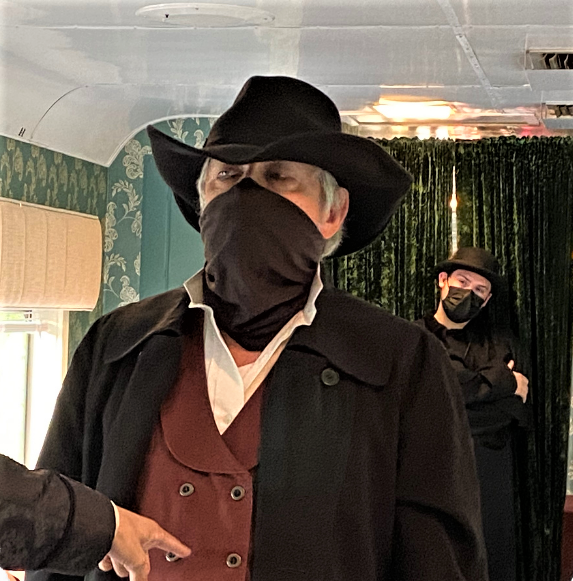 In the 1890s, Jack the Ripper has emerged from the shadows with Charleston, SC as his new host. Having left behind a wake of bodies in Chicago, St. Louis, and Nashville, the vicious murderer is still on the loose, befuddling police in every city.
After a woman is found slain in her dressing room at the Charleston Opera House, rumors cause vaudevillian singers to fear for their lives, and everyone's acting suspicious...TO BE CONTINUED.
To watch the rest of the story play out, you'll need to board the Murder Mystery Dinner Train and try your hand at solving the mysteries of Sing Me a Murder.
A Q&A with actor, John E. Repa
How long have you been acting for the Murder Mystery Dinner Train?
Nearly twenty years.
What is your background in theatre? What brought you here?
I have been teching shows (set construction, running crews, lighting tech) since high school. I've designed and built sets, props, even haunted houses. I've studied playwrighting at SIU Carbondale and acting at Columbia College, Chicago.
I was in a production of Becoming Eleanor at Theater Conspiracy, playing half of Europe, and one of the other cast members had performed on the train and told the artistic director at the time, "You got to see this guy". So he did, came backstage afterward, and offered me an audition.
What makes the Murder Mystery Dinner Train different from other types of shows?
I describe it as half thrust-theater, half theater-in-the-round, and half stand-up comedy. You are in the middle of the audience; you don't have the distance of a proscenium arch. You are right in the trenches with the audience with nothing but your costume, hand props, fellow actors, and your wits to keep things moving.
What is your favorite thing about acting with the Murder Mystery Dinner Train?
Two things; the first one is feeling the show gel and get into its groove. In most shows this can take a dozen performances; and in most theaters that is a full run. In doing four to five cars a night, we do twenty to twenty-five shows in a week.
The second, the audience. You know immediately if they like what you're doing or not and you have the opportunity to interact directly with them with certain lines and in certain situations.
You play two characters in Sing Me a Murder. What are they like?
Charlie Stone is a character actor who thinks of himself as a leading man. Saucy Jack is a Fagin/Bill Sikes mash-up character he's created in developing Oliver Twist for the stage. However, he's doing it during an outbreak of Jack the Ripper-style murders. Not the best of choices, unless he's so into the role that he has become a murderer himself.
Were you involved in the process of writing your characters at all?
Not in writing, but in tweaking the character. During rehearsals and performance, you make adjustments to make a laugh line land or to draw suspicion to yourself, or throw suspicion on others.
What is your process like for getting into character? Does it differ for different roles?
It starts with the script and the costume. The script always gives specific elements to work with and Wende Bowman, our artistic director, and costumer often have specific costumes in mind. Sometimes I offer a different take on her vision, she'll consider it, and then I go in the direction she tells me to.
It's always different because, as part of an ensemble, what I'm doing has to mesh with what the other actors are doing. Then there are the shoes. Shoes tend to dictate a certain way to walk, which influences your posture, which can inform who your character is. The trick is to find a hook to identify yourself to the audience straight away.
Is it ever difficult to switch to a different character once a show has ended?
Not at all, all these characters are very different from each other. And the new character always has their own unique challenges. And having a new costume is like slipping into a new skin.
On a scale of 1–10 (10 being most challenging), how difficult would you say it is for someone to solve this particular case?
I would put it at a 5. There are red herrings galore and everyone has a weapon to have committed the crime, but it comes down to motive and opportunity. So it is not easy, but it is not terribly complex either.
Sing me a Murder has been showing for a few weeks now. Can you describe how your audiences have reacted to it so far?
They have loved it. You get an immediate response during the show, but we also greet the audience as they exit the train. Even the more reserved audience member, who you were not quite sure about during the performance, has had a very enthusiastic response as they leave. You know it's genuine.
Book your tickets for Sing Me a Murder today!
A big thanks to John for taking the time to talk with us. If you have yet to experience a murder mystery on the rails, it's not too late to reserve your seats! Sing Me a Murder is playing now through June 20th.