After the former military dictator of Uruguay, Salvador Delgado, flees to Cuba for asylum, his wife, Carmelita, is left behind. The Eisenhower administration grants Carmelita asylum and contemplates an economic and military allian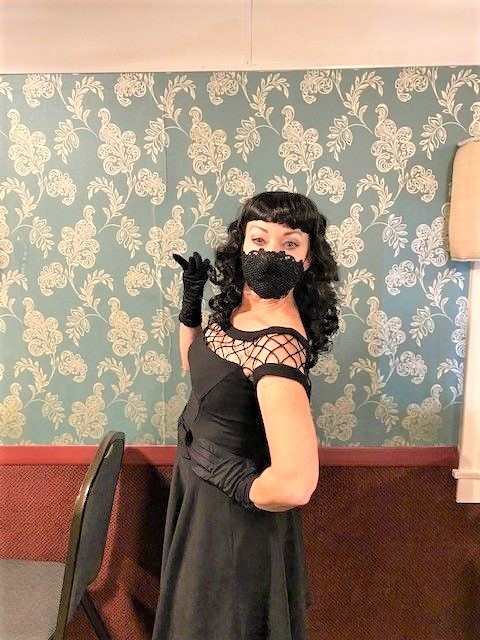 ce with Uruguay under El Presidente Armando Fernandes.
Accompanied by his entourage, Fernandes boards a train to Washington, D.C. to seal the alliance with Ike.
In the wake of these events, Carmelita finds herself a target for murder. To watch the rest of this assassination thriller play out, you'll need to board the Murder Mystery Dinner Train and try your hand at solving the mysteries of Don't Cry for Me.
Actress for the Murder Mystery Dinner Train, Susan Dohan, answered our questions about her acting career and this show/her character in particular.
A Q&A with actress, Susan Dohan
How long have you been acting for the Murder Mystery Dinner Train?
I started on the train in January of 2012–doing one show, 3 days a week. I moved up to 5 days a week doing 2 different shows by the end of March that same year and have been doing it pretty steadily, with small breaks, until last year–I am happy to be back working!
What is your background in theatre? What brought you here?
I have always had a love for live theatre and have been involved in theatre–specifically musicals since I was 12. I received a BFA in theatre arts in PA and lived and worked doing shows, film, etc in NYC, California, and regionally for most of my life.
In 2011, I decided to move to Fort Myers, Florida to be near my folks who were getting up there in years. I saw an ad for the Murder Mystery Dinner Train and thought what a great job! I auditioned and was lucky enough to be offered an acting position.
What makes the Murder Mystery Dinner Train different from other types of shows?
The Murder Mystery train is a very unique theatrical experience. You do the shows in the aisle. So you're seeing the instant reactions from the audience. They are a part of the actual story and you get to interact and play with them. Plus, you are on a stage that moves!
In addition, you do a different kind of show format–you often have five cars and do scene 1 in the first car, and repeat it in each car until you do all five cars. Then, you turn right around and do the same with scenes 2, 3,4, and 5–all while the waiters seamlessly serve the 5 courses and drinks in between! Amazing! It is a fun job but it is also a great training ground for any actor. If you can act on here and do well–you can act anywhere.
What is your favorite thing about acting with the Murder Mystery Dinner Train?
I believe the fun interactions with the audience and the other actors are my favorite part.
Who are you playing in Don't Cry for Me? What are they like?
I am playing the mysterious Seraphina. She is the older 1/2 sister to Ignasia, the First Lady of Uruguay. Seraphina is extremely dramatic and serious and has a lot of dramatic speeches that further the action–but she has a quirky/funny side to her too.
Were you involved in the process of writing your character at all?
No –although I think my character has a touch of Eva Peron about her and she sings a little in the show. I think my musical theatre background influenced that.
What is your process like for getting into character? Does it differ for different roles?
I often play sort of a ditzy role or the total opposite–very stern roles… they just kind of come naturally to me. However, sometimes I get to play characters that have different foreign accents. I love to research online how to say things properly before rehearsals so I can be as authentic and believable as possible.
Is it ever difficult to switch to a different character once a show has ended?
Sometimes–but not usually. Especially since we often played one character in one show on Wednesday, Thursday, and Sunday and a completely different show on Friday and Saturday.
On a scale of 1–10 (10 being most challenging), how difficult would you say it is for someone to solve this particular case?
As usual, there are a lot of clues that point in various directions to different characters. However, I would say there are some clearer clues in this one–I'd give it a 6 or 7. Definitely a good one for the whole family!
Don't Cry for Me has been showing for a few weeks now. Can you describe how your audiences have reacted to it so far?
I think the audience really likes this show. They seem to enjoy the script, the characters, and all the humor and drama! They seem extremely engaged while watching the play. They're playing along and working to solve the mystery.
Book your tickets for Don't Cry for Me today!
A big thanks to Susan for taking the time to talk with us. If you have yet to experience a murder mystery on the rails, it's not too late to reserve your seats! Shows running Wednesday-Sunday.